Boisé de L'Île-des-Sœurs
Domaine Saint-Paul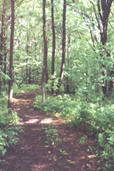 Located on the southernmost point of L'Île-des-Sœurs, this wooded area is designated an "exceptional forest ecosystem" by the Ministère des Forêts, de la Faune et des Parcs. The Domaine Saint-Paul is one of last remaining woodlands on the southwestern portion of the island of Montréal. The park spans some 26 hectares, thanks to efforts by Lyon and Nina Gould and the donation they made in 2001 to preserve two additional hectares.
In 2006, the borough of Verdun made a transfer, on a purely free basis, of a real constraint of perpetual conservation and non-construction on the lands that make up the Domaine Saint-Paul and the Lac des Battures.The borough also made a commitment not to make any assignment change to the protected areas, be it through a sale, exchange or transaction, without first consulting the Ministère du Développement durable, de l'Environnement et de Lutte contre les changements climatiques.
The woodland is part of the Lachine Rapids eco-territory that the city sought to protect by adopting its Policy on the Protection and Enhancement of Natural Habitats.