Tennis courts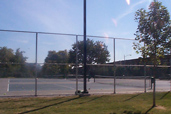 The Verdun borough makes tennis courts available to citizens.
All outdoor tennis courts in the borough of Verdun have synthetic surfaces, except the courts at the Woodland Tennis Club.
May 4 to October 13, 2019
Some 26 synthetic tennis courts open in five Verdun parks.
Reservations can now be made online!
Court are available from 9 a .m. to 10 p.m.
Reserve at Loisirs Montréal using your Biblio-Loisirs card and the proper sticker.
Some time slots are reserved for tennis camps and leagues.
Tennis memberships in 2019
Available at the Centre communautaire Elgar and the Centre communautaire Marcel-Giroux
Family: $36
Adult: $18
Child: $6
Free for children under 6 accompanied by an adult.
PARC ELGAR
260 Rue Elgar | Six courts
PARC DE LA FONTAINE
550 Place de la Fontaine | Six courts
PARC ARTHUR-THERRIEN
3750 Boul. Gaétan-Laberge | Six courts
PARC DE LA REINE-ÉLIZABETH
1650 Rue Crawford | Four courts
PARC WILSON
1075 Avenue Brown | Four courts
WOODLAND TENNIS CLUB
May 15 to end of October
Clay courts available
Information: 514-765-7253

ADULT TENNIS LEAGUE
PARC DE LA FONTAINE
Online registration: $73 per resident
Tuesday or Thursday, 7 p.m. to 10 p.m. | Duration: 1 hour
Information: Centre communautaire Elgar
260 Rue Elgar | 514-765-7270

In fall and winter, tennis courses are offered in various gymnasiums in the borough. Go to Loisirs Montréal for complete details.