Outdoor dance floor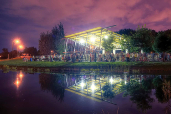 Located on the shores of the St-Lawrence River, on the Îlot John-Gallagher, Verdun's outdoor dance floor offers an eclectic program of daily activities in summer, from salsa to social dancing, tango and Zumba. The schedule also includes shows and special activities. Alongside the dance floor is a basketball court for players of all ages.Nearby, the Serres municipales are located at 7000 Boulevard LaSalle.
Information: 514 765-7150
Close to the Serres municipales
7000 Boulevard LaSalle
Daily from May 25 to August 25, 2019
(Weather permitting) | Free admission
A THRIVING HUB OF ACTIVITY EVERY SUMMER!
Eclectic programming for participants of all ages.