Pools, wading pools and splash pads
Outdoor pools and wading pools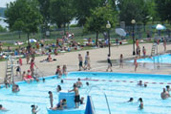 Weather permitting, four outdoor pools and wading pools open in Verdun during the summer. Admission is free. Children under 6 must be accompanied by an adult and are under the full of responsibility of the adult.
June 22 to August 18, 2019 from 10 a.m. to 8 p.m.
Additional hours are scheduled at Piscine Arthur-Therrien and Piscine Elgar.
August 19 to 23 from 2 p.m. to 7:30 p.m.
August 25, 26, 31 and September 1 and 2 from 10 a.m. to 7:30 p.m.
Natatorium (pool and wading pool)
The chalet at the Natatorium will be closed this summer. The basins and the wading pool will remain open. The entrance will be temporarily located behind the pool. Changing stalls will be built under the big tent near the entrance. Restroom trailers with toilets and sinks, universally accessible toilets and outdoor showers will be set up around the pool.
6500 Boulevard LaSalle
Telephone: 514-765-7230
Parc Elgar (pool and wading pool)
260 Rue Elgar
Telephone: 514-765-7232
Parc Arthur-Therrien (pool and wading pool)
3910 Boulevard Gaétan-Laberge
Telephone: 514-765-7236
(access ramp for people with a mobility impairment)
Parc de la Fontaine (pool and wading pool)
550 Place de la Fontaine
Telephone: 514-765-7234
Splash pads
End of May to end of August
To cool off during those hot summer days, some 14 Verdun parks feature splash pads open from 9:30 a.m. to 9 p.m. seven days a week.
Parc Arthur-Therrien (3750 Boulevard Gaétan-Laberge)
Parc Cooney (1175 Rue Melrose)
Parc Duquette (900 Rue Dupuis)
Parc de l'Honorable-George-O'Reilly (Boulevard LaSalle and Rue Rolland)
Parc Joanette (Rue Hickson, between Rue Ethel and Rue Gertrude)
Parc Maynard-Ferguson (bordering the river, between Rue Claude-Vivier and Rue André-Prévot), temporarily out of use
Parc Monseigneur-J.A.-Richard (Boulevard LaSalle, between 5e Avenue and Avenue Desmarchais)
Parc Norman-Dawe (1060 Rue Woodland)
Parc de l'Orée-du-Fleuve (Rue des Parulines and Chemin de la Pointe-Sud)
Parc Poirier (3215 Boulevard LaSalle), temporarily out of use
Parc du Quai-de-La Tortue (6000 Boulevard LaSalle)
Parc de la Reine-Élizabeth (1650 Rue Crawford)
Parc Willibrord (800 Rue Willibrord)
Parc Wilson (1075-A Avenue Brown)

For further details on parks in the borough of Verdun.