Maison Nivard-De Saint-Dizier
Musée et site archéologique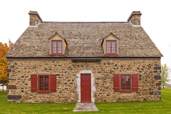 In 1671, Zacharie Dupuy, then the major of Ville-Marie, was granted an immense fiefdom, which he named Verdun in memory of his native village of Saverdun, located in the department of Ariège in France. In 1673, he bequeathed all his possessions, including the fiefdom of Verdun, to the Notre-Dame congregation, then directed by Marguerite Bourgeoys.
In 1710, the nuns had a stone house built there. Measuring 12.6 metres by 7.34 metres and close to 10 metres in height, the modest house featured a sloping cedar shingle roof, two large chimneys, and few openings. Classified as a heritage building in 2012 by the Ministère de la Culture et des Communications du Québec, Maison Nivard-De Saint-Dizier is a remarkable example of rural architecture in the early days of the French regime.
The house's foundation lies on the largest prehistorical archeological site on the island of Montréal, dating back to an First nation settlement more than 5,500 years ago. The museum collection includes more than 16,000 artefacts, mainly from the pre-historical and first contacts periods. It attests to the original Amerindian presence in the Montréal region and to the great variety of activities practiced (hunting, fishing and work camps) and the occupants' extensive and diversified trade networks based on recognized artefact materials.
Free admission
To find out more, visit the official Maison Nivard-De Saint-Dizier Website. (in French only)
The 2018 program is also available. (in French only)
Virtual exhibition "The Verdun Auditorium: An Iconic Place in Verdun"