Mitigating urban heat islands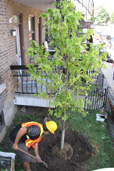 The borough of Verdun, in partnership with Nature-Action Québec and the Government of Québec, has pledged to reduce urban heat islands in a particularly hot zone within its limits, the Wellington-de-l'Église neighbourhood and the sector south of this neighbourhood.
The Verdun fait sa fraîche! project has already resulted in increased vegetation cover, which will help reduce urban heat island effects in this area in years to come.
Taking action to reduce urban heat
In order to cool down your neighbourhood and increase the comfort of you and the people in your community, you can make a concrete gesture. For further details, consult the brochure below (in French only):

Lutte contre les îlots de chaleur urbains[4,1 Mo - 5 pages]