Horticulture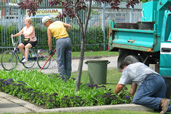 Horticulture employees maintain the borough's green spaces and parks. Starting in early summer, they:
prune the trees and hedges;
repair grass surfaces;
clean flower beds;
plant flowers;
treat vegetation against horticultural diseases.
The lawn mowing team also does weeding on sidewalks and around trees. The grass is cut about once every 10 days, depending on the weather and the period of summer. During a drought, grass growth slows down considerably.
Pruning
Trees in front of properties are pruned by borough employees if they are on the portion of the property owned by the city. A borough representative will determine the property line. There is no fee for this service or for tree pruning, if applicable.
However, trees located behind properties must be trimmed at the owner's expense. A visit from a borough representative is not required.
Cutting down
Before cutting down a tree on your property, you must first obtain a permit by going to the Accès Verdun offices located at 4555 Rue de Verdun, suite 104.
Once you've applied for the permit, a borough representative will schedule a visit to determine whether the tree must be cut down and whether it is located on your property or on city property. A file processing fee will apply, regardless of the decision to proceed or not with cutting down the tree. If your application is approved, you will receive the permit in the mail. If it is refused, an Accès Verdun representative will contact you to let you know.
Cost : $30 $, non-refundable