Road maintenance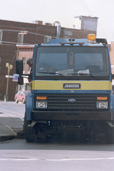 Various types of mechanical equipment are used to keep the roads clean. The frequency of maintenance varies, depending on the type of road (main or secondary), the population density and the season.
The borough does not maintain alleyways. During winter, only the snow is cleared and there is no abrasive spreading.
Potholes
The conditions chiefly responsible for the formation of potholes, especially in spring, include aging asphalt, the repeated passage of vehicles, water infiltration beneath the pavement, and temperature variations.
In anticipation of spring, road maintenance crews carry out repairs during the summer. In winter, potholes are filled with cold asphalt.
For further information on parking regulations and the dynamic signage system, consult the Street Parking section.