Equipment failure
Report an equipment failure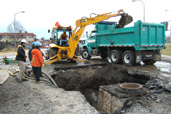 Whether it concerns a lamppost, a traffic light or any other broken or defective urban equipment, the faster a citizen reports it, the faster it is repaired.
Procedure
Contact the Accès Verdun offices at 311;
Identify yourself (name, address, telephone number at home and at work);
Tell the clerk the exact location of the broken or defective equipment (intersection, street address, cardinal point, etc.);
Mention the type of problem (intermittent lighting, red light burned out, defective fountain, etc.)
Maintenance teams at the Direction des travaux publics try to repair or replace equipment as quickly as possible. However, specific factors can delay the repair and the restoration of service.